True Entrepreneurial Spirit and Courage
By
Nadine Spencer
On
August 15, 2016
In
Community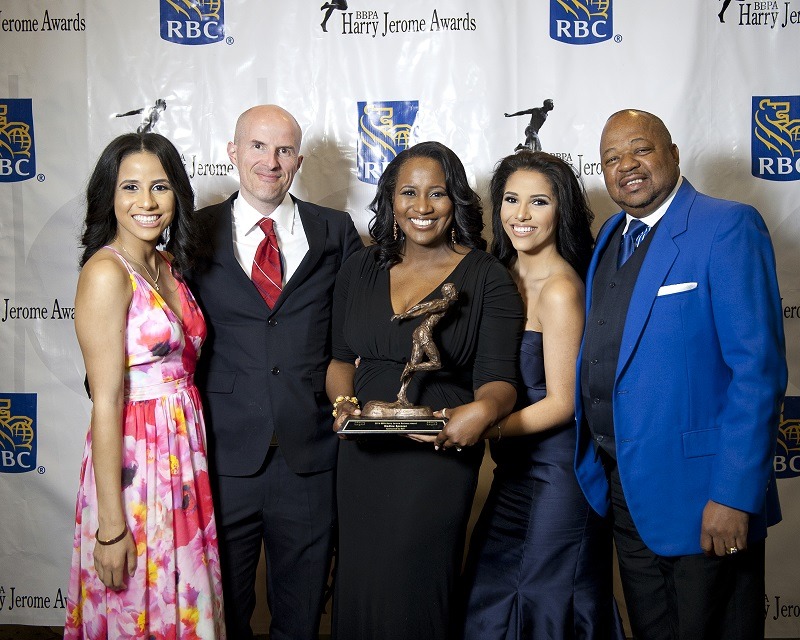 As the recent winner of the 2016 Harry Jerome Business Award, Nadine Spencer, President and CEO of BrandEQ, continues to push boundaries both professionally and personally.
Established by the Black Business and Professional Association (BBPA) in 1983, the Harry Jerome Awards recognize and honour excellence in African Canadian achievement. The business category of this prestigious awardcelebratesblack women and men who embody an entrepreneurial spirit, are committed to new business ideas and practices, and are dedicated to fairness in the work environment.
"I'mhonoured to receive this award," says Spencer. "I started my first business when I was eight years old. I honestly can't remember a time in my life that I wasn't involved in some kind of entrepreneurial venture. Entrepreneurship is a mind-set – it means thinking in inventive ways, taking unimaginable risks, pushing myself even when facing tremendous obstacles, and doing much more than is required."
With more than 20 years ofexperience, Spencer leads BrandEQ, a creative communications agency that specializes in marketing, brand development and crisis management. BrandEQ's client listincludes international banks, politicians, car companies, hotels and resorts, and leading clothing distributors.
BBPA President Pauline Christian says Spencer was an ideal candidate for this year's Harry Jerome Business Award because she demonstrated the best business acumen with outstanding entrepreneurial spirit, corporate consciousness and community awareness in owning and managing a successful international business.
Spencer employs her People Matter™ strategy to everything she does. This concept, which she developed early in her career, motivates individuals to confidently lead their organizations, train their staff and create new opportunities. People Matter™ embraces the idea that eachindividualis adynamic entity that has the power to accomplish great things. Regardless of a person's position, their contribution and perspective can have an immense impact on an organization.
According to Spencer, the best marketers consistently participate in strategic brainstorming, planning and discussions. They use the latest tools and platforms at their disposal to engage employees, interact with customers and reach their external audiences.
Each year fifteen Canadians receive the Harry Jerome Award in categories such as Arts, Athletics, Community Service, Diversity, Health Sciences, Leadership, Lifetime Achievement, Media, Presidents, Professional Excellence, Trailblazer, Young Entrepreneur and Business. Other 2106 award winners include Toronto Chief of Police Mark Saunders, Ryerson University's Vice President of Research and Innovation Wendy Cukier and Judge Juanita Westmoreland-Traore.
In addition to her Harry Jerome Award, Spencer will also be included in the 2016 edition of the 100 Accomplished Black Canadian Women. The goal of this book is to highlight, document, acknowledge and support Black Canadian women in terms of their social, educational, political and professional accomplishments.
"Nadine has supported initiatives that impact black women and girls," says Dauna Jones Simmonds, co-author of this publication. "She's a leader, influencer and role model for black women and girls."
Spencer serves on numerous corporate and not-for-profit boards, including marketing director for Accelerating Women Entrepreneurs and the Junior League of Toronto's 2012-2013 president. Most recently, she's participated in White House discussions about anti-discrimination, equity for women and girls of colour, as well as other relevant topics to improve the lives of the marginalized in our society.
Jones Simmonds adds that it's important to showcase accomplished black women like Spencer. "They have done so much for our communities and Canada in general."
"Nadine has made an impact in mobilizing women cross-culturally and across different industry/business lines," says Christian, who has known Spencer for more than five years. "My first main encounter with Nadine was…when she recommended me to be an advisory member at the Junior League of Toronto."
The Junior League of Toronto is an educational and charitable organization made up of women who promote voluntarism, develop potential for women and improve communities through action and volunteer leadership.
"As a mother of two smart and empowered young women, I see my how my role as a mother, community builder and business leader manifested in my girls, who are tomorrow's leaders," says Spencer.
Spencer acknowledges she's done great things in her life but she believes her greatest accomplishments are yet to come – for herself and other women.
April Wilson Lange